Natalie du Toit of South Africa removes her artificial leg at the starting line for the women's marathon 10km swimming competition at the Beijing 2008.
Olympian and Para Olympian
---
click here to see her wiki entry
---
Born 29 January 1984, she was a Western Province provincial swimmer, from Wynberg Girls HS and training with coach Karoly von Törrös at the Vineyard SC in Cape Town. At age 14 she was set a South African national record in the 400m IM at the 1998 nationals in Durban , and finishing second in the 200m butterfly. Later that year she competed in these two events at the Commonwealth Games held Kuala Lumpur. In 1999 she again won the 400 IM and silver in the 200m fly at nationals. In 2000 she narrowly failed to qualify for the Olympic Games. In 2001 she suffered the loss of lower left leg in a car accident - and became a para-Olympian competitor in the S9 class.
She was one of two Paralympians to compete at the 2008 Summer Olympics in Beijing; the other being table tennis player Natalia Partyka. Du Toit became the first amputee ever to qualify for the Olympics, where she placed 16th in the 10K swim.
Click here to see her biography
Natalie du Toit at South African nationals in 1998
Natalie training at Vineyard SC in Cape Town
---
para-Olympian open water start
---
Swimming through the pain barrier
24 July 2002
On Monday, 27 February, 2001, Du Toit was travelling to school from a swimming training session when she was injured.
She remembered: "It didn't take the leg off, it was more like it is when you drop a tomato from a great height. Everything was just obliterated."
Du Toit, who was conscious throughout the ordeal, feared that her career was over.
It was quite a shock to find that I suddenly didn't have my leg but I decided I wanted to get back to swimming
Despite a week-long effort by doctors to save her damaged limb, the leg had to be amputated.
"I knew the operation was going to happen because, although I was sedated, I could hear people around me," she continued.
"But when I came round the first thing I said to my parents was 'when is the operation' and they told me it had already happened."
She was also left with a titanium plate in her leg, a skin graft and severely damaged nerve endings.
But her goal was immediately clear.
She said: "It was quite a shock to find that I suddenly didn't have my leg but I decided I wanted to get out of the hospital, which I did within a few days, get back to walking and, of course, swimming."
I want to win a medal for myself but it would be great for all those people who have helped me get back into the pool
That happened with almost immediate effect.
She returned to training in May of last year, which she admits was "excruciatingly painful" and this summer's Games will be her first ever competition as a disabled athlete.
However, the tragic accident has not left the teenager at all bitter.
She said: "I put it down to faith - things happen for a reason. And, as it happens, this has opened other doors for me.
"It hasn't stopped what is my life, and that is swimming."
Aside from her "incredible, but stubborn determination", according to her coach Karoly von Toros, she insists the support from her family and the South African public at large gave her the boost she needed.
And the Games for her is the "time to repay that".
"I want to win a medal for myself but it would be great for all those people who have helped me get back into the pool," she added.
Obstacles such as rivals in the pool do not seem to be a consideration.
When Du Toit had her left leg amputated below the knee following a scooter accident in early 2001, she ended up encouraging tearful family members while recovering in hospital - and within a few months of leaving hospital was back in the swimming pool.
In an interview with William Rowland published on Disability World in early 2004, Du Toit said that her accident had only served to increase her determination. Back in the pool within four months after her operation, she spent the first week swimming by herself.
"After a week I started with the squad, but in the first lane", she told Rowland. "It was not nice seeing little babies beat you; so I just had to train harder ... get up with the guys ... get up with the seniors ... get back to the level I was swimming at before."
Du Toit switched to longer events - from 200m and 400m individual medley to 800m and 1 500m freestyle - to make up for her loss of speed with only one leg. But she made no adjustment to her mental outlook.
"There's really no line between able-bodied and disabled swimming ... I treat both of them the same. They're your opponents and you've got to race the way you train.
"It is important to swim your own race and not someone else's."
Before she lost her leg in an accident, Du Toit narrowly missed out on qualifying for the 2000 Olympic Games in Sydney. As an amputee, she failed to qualify for the Athens Olympics in 2004.
---
---
Natalie du Toit, left, waits for an official to pass over her prosthetic leg after completing the women's 6.2-mile open-water swim Wednesday in Beijing.
Du Toit doesn't win, but inspires
Natalie du Toit pulled herself onto the dock and waited for someone to bring her prosthetic leg. She stretched out the other leg - the one she didn't lose in that horrendous motorcycle accident - and chatted with her coach about the first open water race in Olympic historyDu Toit didn't finish where she wanted. Not even close.
But just making it to Beijing was a huge victory for someone with a disability.
Hoping to contend for a medal, the 24-year-old South African amputee fell off the pace toward the end of the grueling 10km (6.2 mile) race and finished 16th, more than a minute behind gold medalist Larisa Ilchenko of Russia.
"I tried my best," du Toit said. "I'm not too happy with it, but I'll be back for 2012."
Don't bet against her.
When she walked out with 24 other swimmers to be introduced for the historic event, it was quickly apparent this wasn't just another competitor.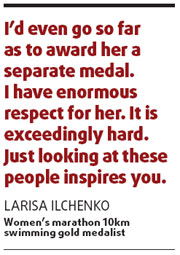 Du Toit hobbled along stiffly on her artificial leg, No. 23 written on her back and both arms. While others bounced up and down to loosen up, she settled for shaking her arms. A couple of times, she walked over to the edge to splash water on her face and goggles, leaning over tenuously with her metal prosthetic sticking out to the side, serving as balance.
When it was time to race, she walked onto the dock and removed her replacement leg. Someone moved it away, and du Toit sat at the edge of the water, her right leg dangling in. When the starter called for everyone to get ready, she pulled herself up, wobbled just a bit and dove in.
She was an Olympian.
Du Toit hung with the lead pack most of the race, but couldn't keep up when the pace quickened toward the end of the two-hour ordeal. She finished 1 min, 22.2 sec behind Ilchenko, who out-sprinted two British swimmers who led most of the way.
But du Toit's time of 2 hr, 49 min, 9 sec put her ahead of nine others, including 16-year-old American Chloe Sutton, who broke down in tears after finishing, every part of her body cramping and aching.
"I've got to get faster," said du Toit, who looked like she could swim another 10km. "The race will obviously improve. This is the first time they've swum it at the Olympics. It's going to get faster and faster."
An up-and-coming swimmer who just missed qualifying for the Sydney Games, du Toit's life took a tragic turn in 2001. Returning to school on a motorbike after a training session, she collided with a car and sustained massive injuries to her left leg. Doctors tried for a week to save it but finally had to amputate at the knee.
Instead of giving up on her athletic career, du Toit was back in the water six months later. Swimming made her feel whole again, but she wasn't competitive with able-bodied athletes in the pool, where the legs are vital for starts and turns.
Along came open water, which was added to the program for Beijing. There are no flip turns to negotiate in marathon swimming, which is usually held in lakes and oceans, and the upper body is more important than the legs.
Du Toit had found her new calling. She qualified for the Olympics with a fourth-place finish at the world championships in Spain this year.
"I find it hard, and I'm a completely able-bodied person," said Cassandra Patten, who won bronze in the race held at the Olympic rowing and canoeing course. "She's an amazing role model."
Ilchenko praised du Toit for not letting her disability hold her back. She was right in there battling with everyone else in a race that's often called wrestling in the water for its rough tactics.
"I'd even go so far as to award her a separate medal," the winner said through a translator. "I have enormous respect for her. It is exceedingly hard. Just looking at these people inspires you."
Agencies
(China Daily 08/21/2008 page7)
28 September 2013
THE British High Commission announced yesterday that South African Paralympian Natalie du Toit would be awarded as a Member of the Most Excellent Order of the British Empire (MBE) for her work in advancing the Paralympic Movement.

"Her Majesty The Queen has announced that South African Olympic and Paralympic medal-winning swimmer Natalie du Toit has been awarded an honorary MBE for her services to Paralympic sport," the commission said in a statement.

Du Toit has had a legendary career in the sport. On top of having an incredible 13 gold medals from three Paralympic Games, she's also the first amputee to ever qualify for the Olympics. In 2008, she finished 16th in the world in the 10K open water swim.

"I find myself extremely humbled and honored to be receiving this auspicious award," du Toit said. "To those that have made it possible I thank you for believing in me and by having stayed by my side."

Du Toit began swimming competitively at the age of 14, but lost her leg after a scooter accident in 2001 while heading back to school following her swim practice. Only three months later, the determined du Toit was back in the pool before she had learned how to walk without the use of one of her legs. Prior to her accident, du Toit had competed for South Africa at the 1998 Commonwealth Games. She retired from the sport following her three gold performance at the 2012 London Paralympics.
click here to a video of the ceremony
Natalie (centre, front) with coach Karoly von Törrös in Cape Town. Other include internationals Corne Swanepoel (New Zealand) and Sarah Poewe (Germany and South Africa)
---
Paralympics 2012: Natalie du Toit second in final race
---
Natalie du Toit ended her swimming career with defeat to Australian Ellie Cole in the S9 100m freestyle final.
The South African, who says she nearly did not attend the Games after a troubled build-up, ended the event with three golds and a silver.
Du Toit, who lost her left leg in a car crash in 2001, won 15 Paralympic medals in all - 13 gold and two silvers.
"I walk away knowing I have achieved everything I could ever have wanted to," said the 28-year-old.
In London she won :
---
Natalie du Toit biography